Evidence of Content Courses and Workshops
SoilHack Gathering 2017
In May 2017, I helped to organise the first national SoilHack Gathering! While I had a number of responsibilities, I also managed to participate in workshops and undertake a huge amount of learning. You can see the overview of the weekend below: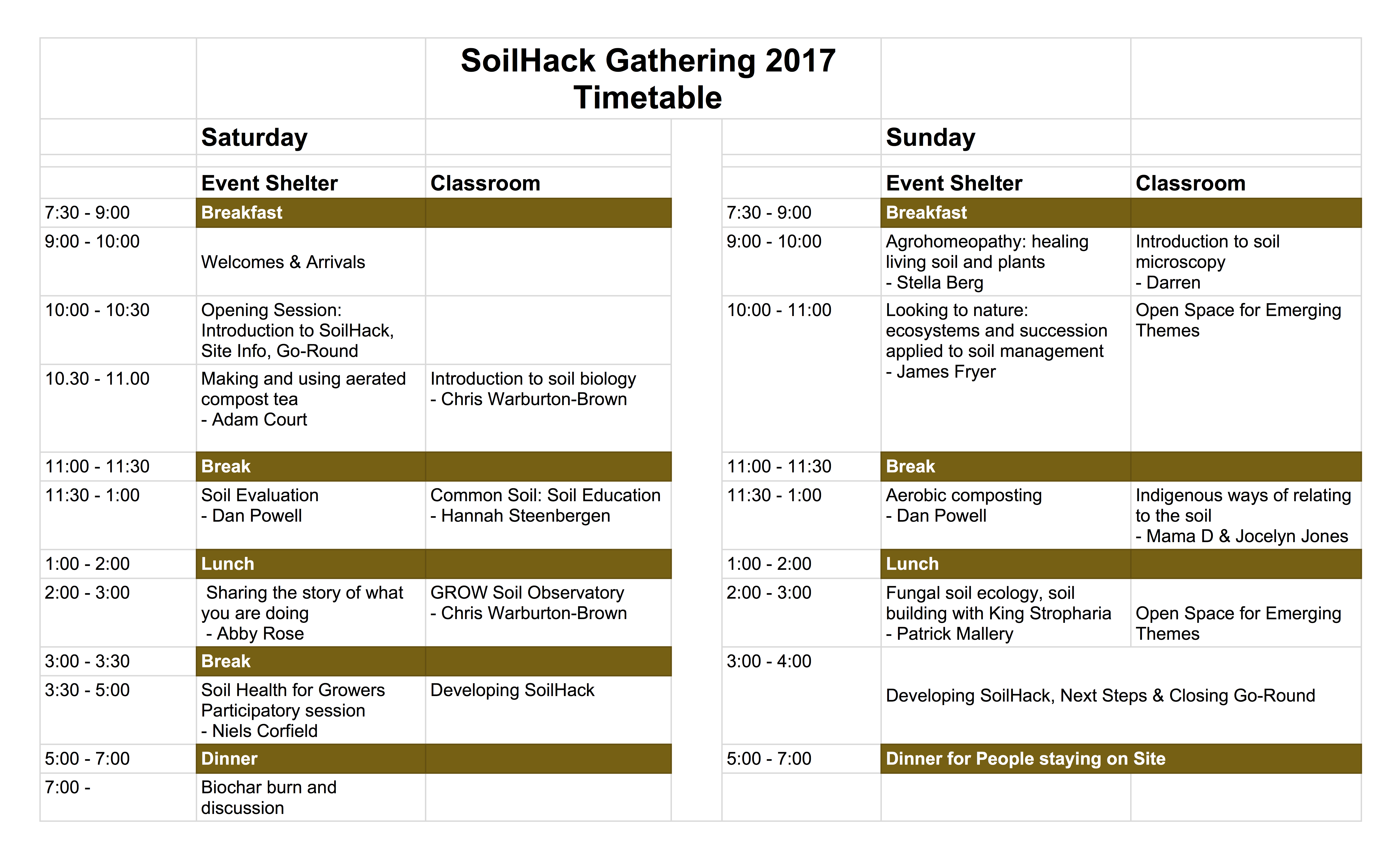 I managed to attend workshops on:
Making and using aerated compost tea
Biochar burn and discussion
Soil microscopy
Looking to nature: ecosystems and succession applied to soil management
Keyline Design Course 2015
Source: http://www.emptycagesdesign.org/keyline-design-course-with-owen-hablutzel/
This is an overview of the three-day course I attended in June 2015. Organised by Regenerative Agriculture UK. There were approximately 24 guided learning hours.
Last week I attended a three day course in Somerset with Owen Hablutzel from California. The course was about Keyline Design; a template for whole-farm planning using Yeoman's scale of permanence and other dynamic design tools. The course was structured around Yeoman's scale of permanence. We worked through all the different factors that influence land-based decision making, from climate to soils. Owen shared his experiences of consultancy work and we had practical tasks like learning how to use different surveying tools. We looked at how key line design can help us in creating systems that are increasingly resilient in our changing socio-economic and unprecedented physical climate change. Through managing wholes we can navigate complexity.
A key part of key line is understanding geography; observing ridges and valleys, landshapes and water lines. These observations help us identify key points and key lines. The key point is basically the point of deposition, where materials, such as soil participles, are no longer being transported.
Something I really enjoyed about the course was the emphasis on social geography and how the social and economic climates are just important to consider as the ecological ones. They aren't separate and we need to survey and observe all of it extensively to make informed decisions. We looked at the water aims of a key line system; maintaining household and farm water supply, improving the water cycle and putting water to work. Owen described it as, "Working with the self-organised properties of water". The primary ways to meet these aims are keeping the soil covered, optimising transpiration, building soil water holding capacity and utilising the geography of our landscapes to aid water catchment and storage. Through dams, ponds and planting patterns all of this can be strengthened. We then covered roads and access. There were multiple factors at play but one permaculture principle stuck in my mind - that we can stack functions and make roads multifunctional. Roads can aid us in channeling and diverting water.
Agroforestry was the next area we covered. It reaffirmed to me the power of polycultural assemblies! Owen introduced criteria of what defines an agroforestry system (compared to just say trees in a field). Agroforestry systems are intention, intensive, integrative and interactive. Practices include windbreaks, riparian forest buffers, forest farming, alley cropping and wood pasture. He shared a photo of incredible ribbon forests and the natural patterns of windbreaks that nature has created.
Next up was soils, something I can never get enough of. Thankfully my inner soil geek was satisfied as we looked at soil formation essentials and the impact of the Yeoman's plough. Owen describes it as a revolutionary piece of agricultural equipment. Unfortunately we didn't get to see a real-life plough but did witness a sub soiler in action.
Overall I learnt a huge amount and am looking forward to taking on more broad scale projects where I can apply my learning. 
Plant Nursery Design Course 2015
Source: http://www.emptycagesdesign.org/nursery-course-feed-avalons-first-step-towards-starting-a-community-plant-nursery/
This is a write-up from a Plant Nursery Design Course I attended in February 2015 in Somerset. I also attended the same course that we organised again in February 2018. The course involved 16 guided learning hours.

Last weekend Feed Avalon hosted a Nursery Course, led by Neils Corfield from Edible Cities. Feed Avalon has plants to start a community plant nursery that can supply high-quality, multipurpose and beautiful plants to help restore our local landbase. The course was our first step. Thanks to Neils for his brilliant teaching and well-designed course, stuffed to the rafters with resources! Overall it was a hugely stimulating and enjoyable weekend.
Agroecology 5-Day Course, 2015
Source: http://www.emptycagesdesign.org/agroecology-course-with-miguel-a-altieri-and-clara-nicholls/
This is an overview of the five-day course I attended in April and May 2015 at Schumacher College in Devon. There were approximately 50 guided learning hours.
Over the week of the Monday 27th April till to Friday 1st May 2015, I was super privileged to complete a training in Agroecology with leaders in the field, Miguel A Altieri and Clara Nicholls. I was extremely grateful to receive financial support from Schumacher College in order to make it. I arrived on the Monday, hesitant about this 'weird and wacky' college that had been described to me by friends who had studied there. Over the course of the week I came to see the patterns of the college and how they are grounded in attempts to support people to connect and cooperate, for example everyone doing collective housework, shared meals, a head/heart/hands orientated program. While I still felt of a class barrier to feeling like it was a 'home' like we were encouraged, I still enjoyed my time there. Miguel & Clara are both professors at the University of California. They have been leaders in the field for a long, long time. Aiding their research skills and passion for agroecology to learning from small scale peasant farmers in the Global South, they have cultivated the ground for agroecology to flourish. I'd like to share my deep gratitude to the talks and materials that formed the basis of the course. What stayed with me most was the recognition that my role in the field of agroecology is an organiser. I want to build a movement of food sovereignty in this country that can redistribute land ownership, confront industrial agriculture and support the thriving of autonomous communities moving away from the state. What I learnt in terms of the principles and practices of agroecology could be spread across several blogs! This will have to be a job for the winter when the growing season has subsided. Until then check out the photos from the course below:
Evidence of Project Management Systems
Managing Time and Promises
Greater accuracy in estimating the time it takes for tasks and more accuracy in spacing them
Increased delegation and asking for support in campaign collectives
Increased use of my smart phone rather than email is enabling greater participation in collectives and a more horizontal working pattern
Designing in more rest and breaks into my day and overall life has been essential while recovering from my illness and anchoring new self-care habits
Attempting to do some tasks just a little bit faster is actually creating more momentum at work (such as checking emails)
I use these next action forms as part of a system I have been refining for years. My recent 'tweak' has been to number my next actions - this reduces that hesitation time of what to do next. It also means I think smarter on what tasks can be done at once (like batch processing)
I am undertaking project check-ins every 8 weeks, whereby I simply check-in with each of my projects - check any next actions that have slipped through the net, think about what needs to be done etc.
I am definitely reducing the amount of time 'doing' when traveling. I am going on more trips, such as long train journeys for prison visits, with just my notebook and some music (rather than my laptop etc) - this has created a lot of thinking time and enabled greater reflection and deeper thinking rather than just going from one task to the next.
It's clear for me that long holidays don't integrate well into my life due to my caring responsibilities - so I have been designing in more 'mini-trips' into my life e.g. Weekend breaks away. This means that I don't have this pre-stress and I'm not playing overwhelming catch up when returning.
Booking appointments at the beginning or end of the day - so that I am not loosing time during the day, where I can really focus on my projects
Reducing meetings and reducing attendance at physical events. I think for a long time I had a fear of missing out. Right now, I am a lot more selective with my energy, especially if events demand a physical challenge like traveling far.
Developing what I call 'chronic illness communication' this means flagging up to people in advance what my challenges are, and what my needs are and that sometimes if I have an unpredictable flare up, I will need to rest. It also means not overpromising and communicating regularly about my needs when working in groups.
Next Action Forms
I created these 'Next Action Forms' as way to effectively manage my projects and the copious amounts of next actions that one needs to do. These include: 
Month Design - a form enabling me to map out the key priorities for each of my projects each month
Week Design - a form enabling me to map out the key priorities, as well as my appointments and schedule at the start of each week
Next Actions Form - a form enabling me to map out what I need to do at the beginning of the day. It is organised into boxes to enable 'batch processing': a faster method of getting things done by grouping similar tasks together
Daily Tracker Sheets
For various periods of time when working on output packets, I used these daily tracker sheets. These are sheets I designed to help me capture my learning in certain areas (the open boxes). They also enabled me to track certain things, such as hours of sleep or what tasks I did for my self-care. These have been incredibly useful overtime for enabling me to make interventions to improve my life and proejcts. They have also been a big tool in enabling me to work 'small and slow' on output packet creation, and created effective containers for my reflections. 
Evidence of Output Outcomes
Pre-capstone OP3 Output Outcomes
Accelerating Agroecology

Extreme Energy

Prison Abolition

Repression

Radical Herbalism


Pre-Capstone OP4 Outcomes
Professional Pathway Progression
Since April 2014, I have developed significantly on a professional level. At the beginning of the year I was employed by Somerset Community Food, and I initiated the Growing Resilience Project. I then covered my co-worker on study leave, to organise growing & cooking courses locally.
In September 2014 I resigned from the charity, to fully focus on Feed Avalon. I am flourishing in the horizontal work space, where I can fully participate in decision making and work with skilled, like-minded, caring & compassionate people. I have developed skills in accounting/financial management/tax systems and more. I have the responsibility of a Director and love being able to work with others to restore our land base and community.
In November 2014 I launched 'Empty Cages Design' to re-brand my work and create an online container for all projects and passions. This new-look has increased my desire to blog regularly. I have created several new categories to help me capture my work and learning. I aim to create an online resource and slowly add previous output work, resources and writings.
In November, I also graduated with my Diploma in Applied Permaculture Design. This has been an ongoing journey stacked with my Gaia University studies. I completed most of my work a year or more ago, however the accreditation process has proved challenging. However I was very proud to finish it and now can fully embrace the tutoring pathway for other apprentices on their Diploma journeys.
Skill Flex Development
A tool I developed during my Learning Intentions Pathway Design process was this Skill Flex Tracker spreadsheet. In the second tab you can see my skill flex gains during this output. Key areas of development have been:
Soil building applications, soil food webs & other soil science (Soil Summer School)

Cooperative working, social enterprise design & regenerative economics (Developing Feed Avalon)

Accounting, budgeting & financial planning (Feed Avalon)

Ecological principles, design process, mapping, surveying (Teaching the Permaculture Design Course)

Patrix understanding & deconstruction (Via this output & on the ground organising)


Group facilitation, communication, leadership (Through radical organising commitments)

Decision making, strategic thinking, GTD

Teaching & mentoring (Teaching PDC, designing & running Community Horticulture Course, workshops)
Political - Prisons and Repression
Popular Education
Talked or facilitated workshops about the Prison Industrial Complex (P.I.C) at multiple events:
Workshop on Prisons & Mental Health Struggles, Schizo Culture, London, Dec
Talked at Defend the Right to Protest event 'The Politics of Prisons: Abolition or Reform?', London, Dec
Prison Abolition & Permaculture Workshop, National Permaculture Diploma Gathering, Nov
Workshop on P.I.C & White Supremacy at This is Not A Gateway Festival, London, Nov
Spoke at launch of 'Letter Writing Box' Prisoner Letter writing evening, London, Nov
Spoke at Public Meetings about Prison Expansion, Manchester, Liverpool, Wrexham & Cardiff, Nov
Workshop on P.I.C at London Anarchist Bookfair, Oct
Workshop about Gender Violence & the P.I.C, Anarcha-Feminist Conference, London, Oct
Workshop on Prison Abolition at Common House, London, Sep
Workshop on Resisting the P.I.C at Earth First Gathering, Somerset, Aug
Facilitated workshop on Decarceration at Bristol Anarchist Bookfair, April
Workshop on P.I.C at Newport Rising, April
Public speaking about Repression & Solidarity

Spoke at several events to raise awareness & funds for defendants experiencing repression for resisting Europe's largest animal testing company. Also talking about repression & criminalisation of the UK animal rights movement. Spoke in Italy, Bilbao, Zaragoza, London & Bristol.
Other repression-related activity:
Supported the SOCPA7 and Blackmail 3 defendants emotionally, practically and politically.
Helped organise & promote court accompanying and solidarity protests.
Facilitated a workshop on Resilience to Repression at the UK Animal Rights Gathering.
Led a day long workshop on Community Direct Action with a group in Northern Ireland who one week later had to face the fracking industry (and shortly kicked them out of their community).
Organised letter writing to prisoners at several events.
Articles & Publications (During Output period)
Never Alone Zine - a publication created to give a voice to those that support people in prison. Download it online here.
Ongoing Projects
Empty Cages Collective: A collective of ex-prisoners & organisers started to share information, ideas and build literacy around the prison industrial complex and prison abolition in the UK. http://www.prisonabolition.org
Community Action on Prison Expansion: A new campaign network that the Empty Cages Collective support, established to support groups to resist prison expansion locally and nationally. http://www.cape-campaign.org/
Bristol Anarchist Black Cross: Is a prisoner support organisation that support political prisoners through active solidarity, fundraising, letter writing & more. https://bristolabc.wordpress.com
Land & Food
Popular Education
Growing Resilience Project - I supported 14 learners to achieve a qualification in Community Horticulture. The course was designed around the 6 principles of food sovereignty. Learners met during 'guided learning sessions' to explore course themes and develop skills. They designed and ran workshops for members of the public for the 6 public day long events, which explored food growing skills, politics and projects. To see photos from the course visit: https://www.flickr.com/photos/124792022@N05/sets/
Vegan Permaculture Design Course - I convened and co-taught with Graham Burnett the world's first Vegan Permaculture Design Course. We supported 14 learners to discover the PC design process, tools and principles. It was an amazing experience that stretched my edges as an educator. I designed and ran sessions on soils, surveying, plant based systems, ethics, ecological principles, mulching, compost tea making, zone 00 and community organising. To see photos from the course visit: https://www.flickr.com/photos/124792022@N05/sets/72157645479431597/
Other workshops & activities

Workshop on Animal Liberation & Land Struggle at the UK Animal Rights Gathering, Nottingham, August
Workshop on Food politics and Wellbeing with Isy Schulz at the Radical Herbalism Gathering, Shrewsbury, June
Designed & facilitated a workshop on Health Justice and Community Organising around Fracking with Becs Griffiths, Carly Phillips and the herbalists from the Barton Moss Herbal Clinic as part of the Radical Herbalism Gathering in June 2014.
Helped organise the Reclaim the Fields Summer Gathering at the Monimal Tower Project in Scotland. See a write-up of the gathering here.
Spoke at the Vegan Permaculture Night organised by Taunton Vegans, May
Feed Avalon

Feed Avalon CIC, the worker's cooperative I co-founded in July has had a very busy summer. Key achievements include:
Convening the Soil Summer School - a weekend course in July 2014 about practical soil care practices. Including introduction to the soil food web, composting, mulching, compost tea making, green manures, biochar & more. I designed and facilitated a session on the politics of soils. To see photographs from the weekend visit: https://www.flickr.com/photos/124792022@N05/sets/72157645887039172/
Securing funding for the

Growing Glastonbury Project

, a two year project to support volunteer growing mentors support ten local households learn how to grow their own food. My roles have included writing the grant application, supporting the project coordinator and financial administration. For more info visit: http://www.feedavalon.org.uk/projects/growing-glastonbury-2/
Designing and launching the

EAT Project

(Education and Training in Food System Skills) with funding from Somerset Skills and Learning. The EAT Project is a program of courses & workshops to support people to learn new skills in food growing, selling, processing, harvesting & preserving. For more info visit: http://www.feedavalon.org.uk/projects/eat-project/
Organising the first Community Food Forum to bring a network of people together that are active locally to create a more sustainable & socially just food system where we live.
Supporting the development of our

People's Kitchen

at our workshop/office in Glastonbury.
There are now four employees of Feed Avalon and five others involved on a self employed basis.
Writing
Transition Free Press Autumn 2014 - New diploma for community activists
Transition Free Press Autumn 2014 - Radical roots of plant medicine
Events
Please note more links, background information and so forth can be found on my website: http://www.emptycagesdesign.org/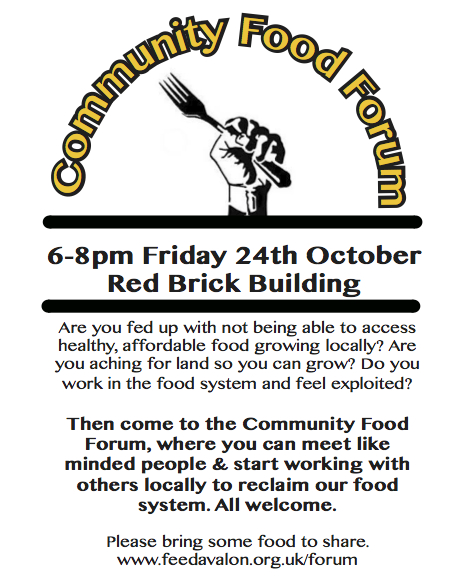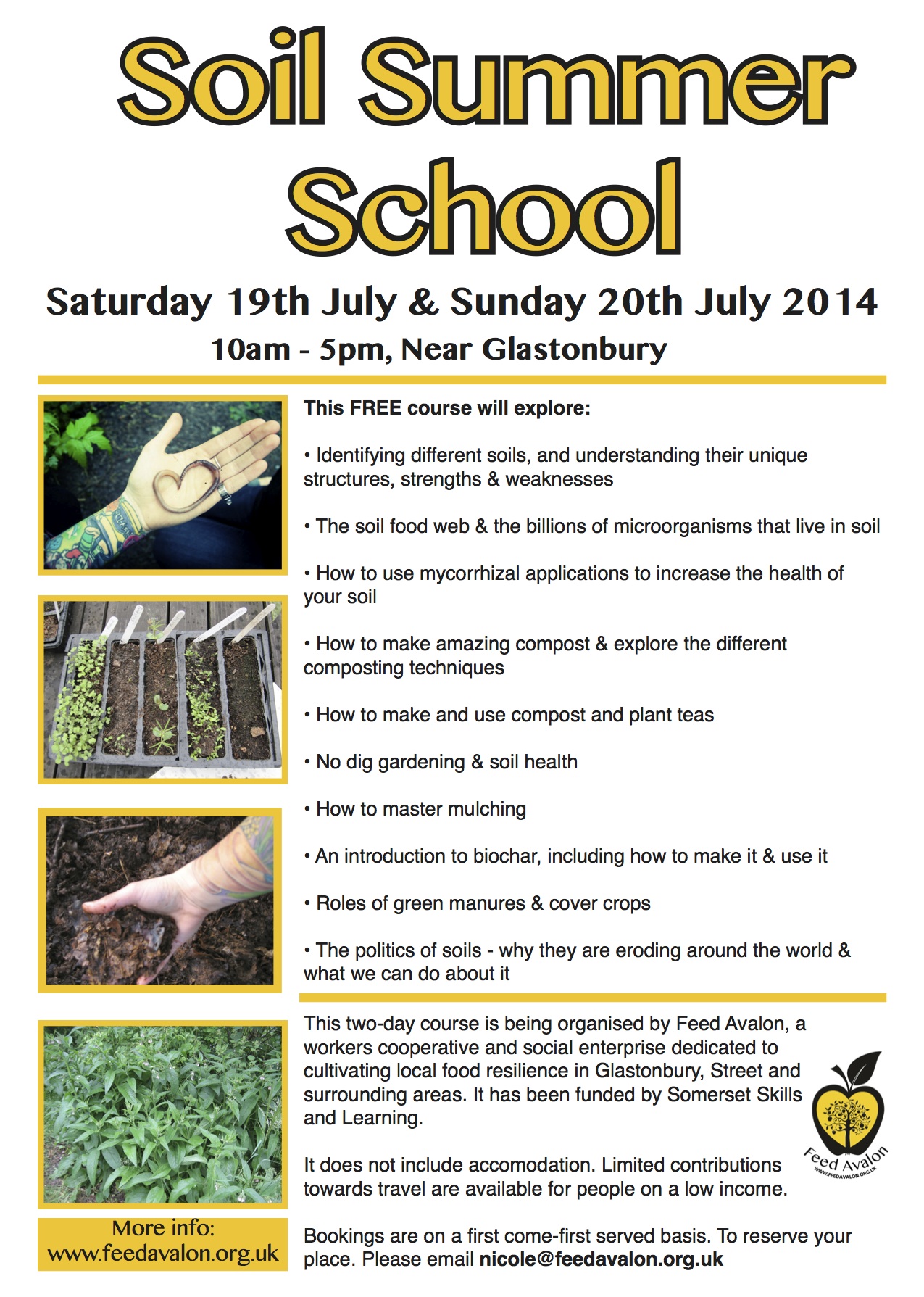 Evidence of Self-Care Gains
Self-Care Gains, Pre-capstone OP4
During this output period, there have been several notable gains in my self care practices following my extensive self care design during output 3. However there are still recurring patterns of overworking, PMT and transient living. I intend to do a full review of my self care gains in my Learning Review.
Below are some graphs I created that compare the data I had tracked using my daily tracker form.
This graph shows that I have increased the amount of sleep I am getting (one of my goals). I have decreased the time spent on emails through designing a better system. I have also reduced the hours spent traveling (another key goal).
This graph shows how I have greatly increased the amount of nights slept at home, an important goal that anchors my other self care practices.
This graph tracks the emotions I felt during these output periods. When processing my forms, OP3 was 66 days, and OP4 67 days, therefore they are quite clear to compare. Interesting patterns to note are increases in feeling exhausted and depressed. It does show me that whatever patterns I have in place e.g. stretching, exercise, herbs, if there are key stressful factors (such as interacting with the prison system or grieving from a death) they will inform the pattern more strongly.
Self-Care Gains, Capstone OP2
As part of my tracking commitments using my 'daily tracker forms'. I have recorded several areas of my life that I have wanted to improve on.
These goals were to:
Increase the amount of sleep I have
Reduce the amount of time I spend sleeping away from home
Reduce the amount of time spent traveling
Reduce the amount of time spent on emails
Reduce the amount of time on the computer (only tracked since OP5/LIPD and Capstone OP2)
Feel happier, or at least understand the reasons for unhappiness/depression/stress or anger
Track my energy and capacity to feel exhausted
Below are various graphs illustrating the results.
My average sleep has increased since 2013/14 however I am still not achieving my goal of 8 hours per night. Likewise my sleep is averaged between nights where I catch up and those that are significantly short and causing me harm.
My time spent sleeping at home has increased significantly since identifying this as an important intervention in my life. It may also be because of being single last year.
I have managed to reduce the number of hours spent traveling but this is still a large use of my energy.
I have been very successful in reducing time spent on email due to various improvements in managing my time and promises and implementing inbox interventions.
Unfortunately the number of hours on my computer increased between OP5/LIPD (4.62 hours) and my Capstone OP2 (5.35 hours) which I suspect is due to my organising interests.
In my capstone output two I also tracked the time I had spent on conscious learning (reading, output work, courses and so forth) which averaged 1.5 hours a day, which I thought was great in the context of my life and the number of responsibilities I have.

In terms of feelings there are some illuminating trends:


My happiness has reduced since last year, which I associate with my best friend dying. However there have been more occasions where I have felt joy.
My anxiety has increased since last year, which I believe is related to my winter burnout 2015/16.
I also became more irritable and angry.
Likewise the number of times I recorded being exhausted increased.
According to my data, I have felt less depressed. I think this is because depressive feelings were highly associated to my bereavements, and now my feelings are shifting into more anxiety related states due to unprocessed grief.
 There is a dramatic reduction in energy and an increase in tiredness.
Self-Care Gains, Capstone OP3
In my other output periods, I have proactively tracked certain things, such as the number of hours sleep I have, or the amount of time spent on the computer. I did not utilise this form tracking system during this output, mainly because I was recovering from a chronic illness and had limited time and attention to complete a daily form. I do have some regret in this decision, because it would have created some useful and interesting data that tracked my recovery.
However, I did track my recovery in other ways, most notably in my blog series on overcoming burnout.
Below you can find links to the various entries that share reflections. The learning from this writing and life experience has resulted in many self-gare gains, such as an increased awareness of my own body, starting a yoga practice, increased attention to my nutrition and various deficiencies, greater amounts of sleep and rest, as well as greater attention to socialising and nourishing quality friendships.
Burnout Blogs
Miscellaneous Supporting Evidence
Assessment of Impact, May 2015 - May 2016
My brilliant advisor Jennifer Morgan gave me feedback to better assess my own impact in my fields. The suggestion was to map the different outcomes of my work and add some qualitative commentary and quantitative data. Then to share some analysis of these patterns. Below is my first attempt at this task. Please note there is a big personal barrier for me in a) identifying or celebrating my achievements (more likely minimising my role in making things happen) b) not articulating publicly my involvement in projects due to fear of state repression.
KEY OUTCOMES
Personal
Commentary: 2015 was a tough year. My best friend died in January and the rest of the year was spent blocking out the grief and trying to cope with everything the best I could. I feel I did remarkably well given the circumstances to keep delivering professionally and politically through my organising. In 2016 I made huge gains in addressing underlying emotional issues and wounds that have accumulated in my life. This was in response to burning out and developing a chronic illness called 'costochondritis', where the cartilage in my rib cage has been inflamed for months.
Quantitative data: see section below titled 'Self Care Gains'
Professional - Empty Cages Design 
Courses & Learning Pathway
Media & Platform
Facilitated sessions at both the International Permaculture Conference and Convergence in September 2015.
Teaching & Workshop Facilitation
Design Consultancy
Undertook a successful design consultancy project for a peri-urban smallholding in Gloucestershire.
Commentary: 2015 was definitely a significant year for professional outreach. My website 'Empty Cages Design' has received increasing hits. I am being contacted at an increasing rate to give talks, lead workshops and so forth. I have also been approached by Maddy Harland from Permanent Publications who is interested in supporting me to produce a book on Liberation Permaculture.
Professional - Feed Avalon
Became a subcontractor with Somerset Skills and Learning, a local adult education provider. We now deliver community adult education around food production. We have hosted courses in soil care, growing to sell, planting for pollinators, mushroom cultivation, food sovereignty and beginners food growing.
Secured a new piece of land from the Town Council, secured £4000 of funding from the Grow Wild Project and launched Avalon Wildflower Park in April 2016, as a community project to support people to connect with the land and biodiversity.
Continued to support the development of Brook End LAND Centre where I live. See our new website here: http://www.brookend.org.uk/
Organised a Seed Swap, Community Food Forum and Harvest Show to support local food production.
Supported the Growing Glastonbury Project which involves monthly skillshares and weekly community gardening clubs.
Secured a grant to run a community cooking project
Design Work Featured in Output Packets
Pre-Capstone OP2 Design Work
Design for my own Healing
Articles and Evidence of Dissemination, Pre-Capstone OP2
All articles written by myself, the majority during this output period - if not their date is indicated:
A World Without Prisons, Red Pepper Magazine, print October 2013 & online here: http://www.redpepper.org.uk/a-world-without-prisons/

Supporting Someone Leaving Prison, On the Out Zine, Bristol ABC Publications, October 2013

State repression: self repression, On the Out Zine, Bristol ABC Publications, October 2013

Resilience to Repression, ALF SG Magazine, Winter 2013

Re-designing our society's need for extreme energy, Permaculture Magazine online: http://www.permaculture.co.uk/articles/re-designing-societys-need-extreme-energy

Protesting with permaculture, Permaculture Magazine 76, Summer 2013 (originally called Designing Resistance) - see text heret, or buy a copy of PM magazine http://www.permaculture.co.uk/back-issues

Grow Vegan Feature, The Vegan Magazine, Growing your garden & your skills: Next steps for vegan organic growers, Autumn 2013

Grow Vegan Feature, The Vegan Magazine, Food Sovereignty & Veganism, The Vegan Magazine, Spring 2013

Grow Vegan Feature, The Vegan Magazine, First steps for vegan organic gardeners, Summer 2013

Permaculture, Queerness & Feminism, Permanent Culture Now, March 2013: http://www.permanentculturenow.com/permaculture-queerness-feminism/

Wild Heart Permauculture Blog posts: http://www.wildheartpermaculture.co.uk/?cat=13

Incredible Edible Somerset writings: http://incredible-edible-somerset.ning.com/profiles/blog/list?user=3rjnqru6dino1

Gaia U Blog: http://www.gaiauniversity.org/gu_blog

Positive News, 'A Permaculture Journey' Blog/Column: http://positivenews.org.uk/category/blogs/permaculture_journey/